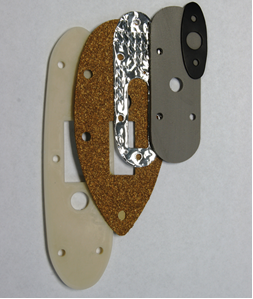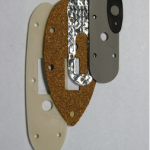 Antenna Gaskets
Part Number: 540444, 3054, 3042X, 470179, 540446, 10-611-301-1, 540332, 3040X, 3025X, 540685, 3021
Dayton-Granger offers a wide variety of antenna gaskets to address the specific needs of each application.  The types currently offered are as follows:
Sheet, rubber & cork: Gaskets are made out of a highly compressible material that is suitable for low and medium bolt pressure. Excellent resistance to oil and fuels.
Neoprene rubber: This material is per MIL-R-6855, Class II, Grade 40/50.
Silicone rubber/wire mesh: Gaskets are built using a composite aluminum wire mesh and silicone rubber material for EMI shielding and weather sealing purposes. The silicone rubber compound used meets Federal Specification ZZ-R-765, Class 2b, Grade 40.
Aluminum foil: These gaskets are made using a high-temperature aluminum foil, 1145-H-19 at 99.4% pure, 5100 in2/lb, in order to provide excellent conductivity.  These gaskets are perforated to a thickness of 0.060" minimum.
Urethane elastomer: Gaskets are made of a molded, two-part filled resin urethane elastomer system, offered in custom colors and forms.
Silicone Elastomer: A molded, flexible, two-part silicone elastomer gasket offered in black only.
Ultraseal: See catalog page for Conductive Gasket PN 540685-( )
A two-part, epoxy gasket kit with miniature aluminum balls.  The bottom of the antenna is spread with the aluminum ball loaded Ultraseal and the antenna is then mounted to the aircraft.  The aluminum balls bridge the gap between the aluminum antenna baseplate and the aluminum aircraft skin.  Since the miniature balls are manufactured from the same type of aluminum alloy as the aircraft skin and the baseplate of the antenna, corrosion due to dissimilar metals is eliminated.  The Ultraseal also seals the interface from water entry and forms a fillet around the circumference of the antenna base.  The low-peel strength of the Ultraseal allows easy removal of the antenna without the use of mold releases or other release agents.
CONTACT US